Living sustainably
Diverse range of homes with their own identities
Apartments De Zwaan for rent
Oasis of peace in the centre of Amsterdam
Trendy housing district with a rich history
New housing district with industrial signature
Oostenburg is a new sustainable housing district in the centre of Amsterdam. The location transforms into a typical Amsterdam housing district: vibrant and trendy. Here, you'll live and work in the middle of green parks, lively little streets, cosy little shops, and great culinary restaurant facilities.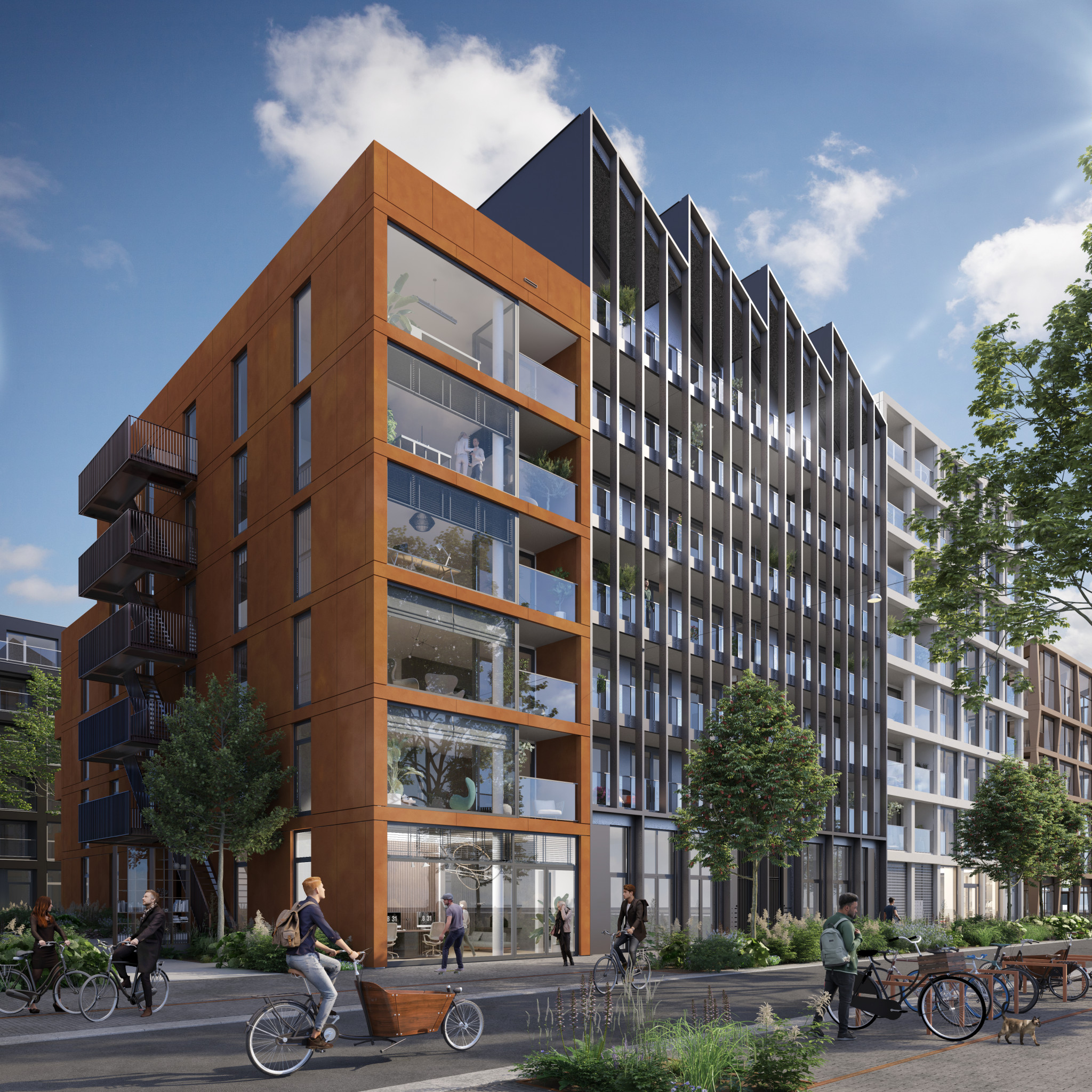 Apartments De Zwaan
De Zwaan consists of three buildings with their own entrances and identities. From your spacious studio, one, or two bedroom apartment, you'll enjoy views of the Van Gendthallen or the courtyard garden. Here, you'll optimally experience the history of the new district. Thanks to the high ceilings and floor-high facades, the apartments are incredibly well lit. All housing units have a luxurious kitchen with kitchen island and private outside space. Below the apartments, commercial spaces and home-office units will be created. A vibrant streetscape in this new urban hotspot.
Diversity with its own identity
You will recognise housing block A by the light grey facade of micro concrete and large balconies. This block will provide 20 apartments for rent. The adjacent block, B, consists of 25 apartments and is characterised by black details and a saw-tooth roof. Block C will be one of Oostenburg's eye-catchers with its rugged facade of rusting weathering steel. In this small-scale complex, 9 apartments will be created of which the top floor apartment will have a generous roof terrace.
Effortless relocation
The apartments will be available as of May/June 2021. You can move in immediately; the walls have been finished and painted, and the apartments are fitted with PVC flooring. The rent will vary from 1,550 euros for a 70 m² apartment, up to 2,750 euros for a spacious penthouse. The service charges will be around 65 euros per month. Due to a low EPC of 0.4, your energy costs will be low. Check out the apartments
Apartements De Parel
At the end of 2021, even more apartments for rent will come available in housing complex De Parel. From these apartments, you'll enjoy beautiful views of the Oostenburgervaart.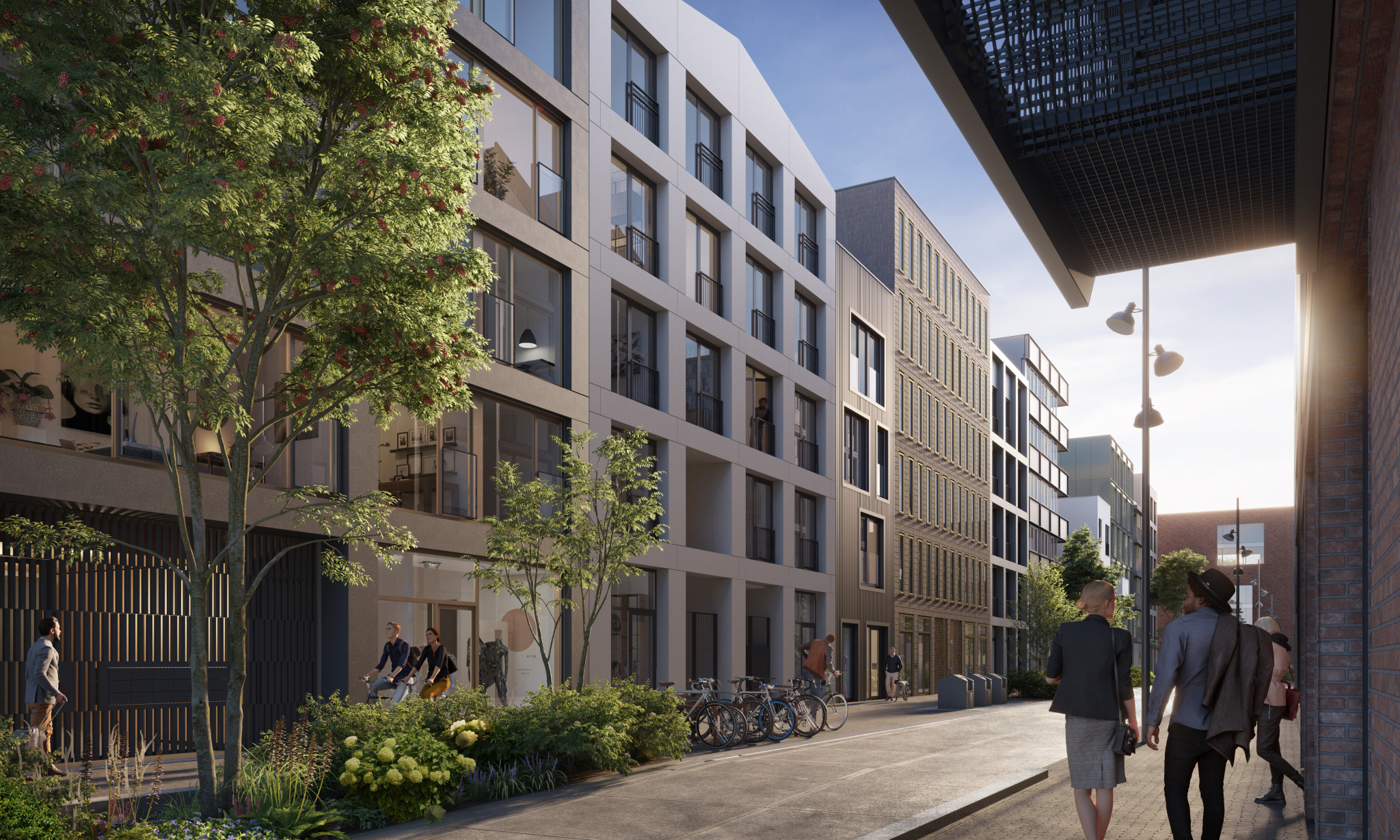 | | |
| --- | --- |
| Completion indication | Q4 2021 |
In addition, there will be opportunity to rent parking spaces situated underneath the adjacent apartment building. Ask the real-estate agent about the possibilities.
If you are interested in an apartment in De Parel, please register your interest via the contact form below.
Amsterdam centre
Optimally accessible in the heart of Amsterdam
Oostenburg is an oasis of peace. There is very little vehicle traffic in the streets, but you are guaranteed a parking place for rent in the parking garage. Thanks to the central location, you enjoy optimal accessibility. Dam square, the Museumkwartier, and the Albert Cuyp and Central Station are all only a short bike ride away. Check out the hotspots
About Oostenburg
Oostenburg strives to appeal to both residents and entrepreneurs. It will offer a good mixture of around 1,800 residences, restaurants, leisure sites, and businesses. The division between the public and private housing sector has also been carefully made. Here you can see a helicopter view of the area.
General information form
The form below is for general questions or to indicate that you are interested in an apartment in De Parel, which will be completed later this year.
If you would like to register for an apartment in De Zwaan, go to the Properties page and make your choice there.